Packing the Backpacks:
Our core mission at Butterfly Backpacks is to assemble Backpacks full of necessities and encouragement to help the women at the Healing Place towards recovery. In order to accomplish this we rely on donations and supplies donated by our family and friends. Below is a list of the items that are regularly included in a backpack.
If you would like to give donated supplies to Butterfly Backpacks you can message Tina Mills at Butterflybackpacks@yahoo.com or call her at (502)494-0400 to arrange a drop off.
We love to have groups come together to help assemble the backpacks and write the encouraging notes that go inside each one. This is a great task for church groups, girl scout troops, or even school service projects. We love all the help and love that goes with each group of backpacks delivered. If you are interested please look at our contact section and get in touch with Tina Mills.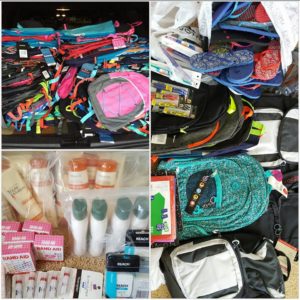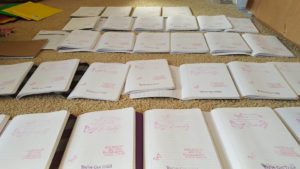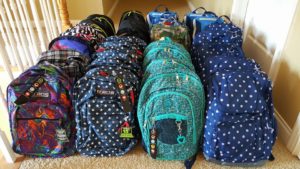 Our Wish List of items:
Backpacks- We aren't picky about a certain brand, we just want a sturdy reliable backpack that will bring joy to the girl that gets it.
Folders- In every backpack we place Maegan's story, her brother Ethan's letter and a beautiful hand colored butterfly picture that is created by our friend with down syndrome, Jill. Jill's heart for the Backpacks is amazing and she says, "each butterfly is exactly as it should be." All these items go in a folder, that the girls can also use to place any papers they get from their recovery classes and workshops. It's even better if the folders have butterflies or inspirational sayings on them to keep the girls encouraged.
Notebooks- We stamp every one with a "Butterfly Beautiful" stamp.
Thank you notes/ inspirational notes
The rest of the items we include in the backpacks are basic necessities, because some of the women leaving the detox program have nothing to their name except the clothes on their backs. That can be a frightening thing while they are fighting such important battles for recovery.

Shampoo/ conditioner
Body wash/ loofahs
Deodorant
Toothpaste/ Toothbrush
Socks
Shower shoes/ Flip-flops
Mini- Kleenex packages
Lip Balm/ Chapstick
Pony Tail Holders and Head Bands
Shaving Razors
Pens/ Highlighters
Gloves/ Hats and Scarves for the winter
Gallon size Ziplock Bags to seal in the wet donation items